1952 Pogo Walt Kelly Original Sunday Newspaper Comic Production Art Page Early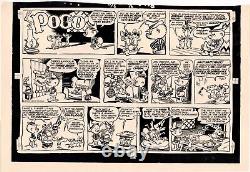 And check out OUR NEWLY LISTED ITEMS. This is an incredibly rare original printed production art page for Pogo, the all-time classic newspaper strip by the legendary Walt Kelly. This is a production art page for the March 9, 1952 (3/9/52) Sunday episode, and includes Pogo Possum or Howland Owl in almost every single panel! This is a black and white production art page of the complete strip page, featuring beautiful artwork by Kelley.
The piece measures approximately 11 1/4" by 16 1/2", on high-quality smooth coated stock (not cheap newsprint paper), and is blank on the reverse side. It is in very good condition, particularly considering its age more than 70 years old!
There is a small tear in the blank white margin area at the top left corner. Please note that this is NOT a mass-produced print, lithograph, or poster reproduction. This is a very cool and rare comic collectible that you will hardly ever get a chance to see (but please note that this item is printed, it is not the hand-drawn artwork). This is a great piece that would look fantastic framed and prominently displayed, and would be an outstanding addition to any collection.
Please note that this is an authentic piece from the 1950's, not something made for a later reprint or collection book. We have been told there are reprint production art pieces being listed by other sellers that make them seem to be old and from original printings, even though they are not for example, older production art did not have the words on a separate sheet from the images. Those kinds of things were only done much more recently, using computer technology. We advise buyers to be careful, as there are disreputable sellers tricking many people into believing they are purchasing items that are older and more valuable than what they actually are. Some sellers simply do not state their items are from reprints, while others make very long listings and put a tiny mention about reprints buried deep in the listing, and/or use a hard-to-read font color (like yellow) to prevent buyers from seeing this information. Unfortunately, everything else in the listing the title, pictures of the cover of the comic from the 1st printing, etc.
This item is a genuine piece from the'50's, not something made for a reprint. Check out our other auctions for more great items. Check it out, you'll be glad you did!