1977 Superboy Legion Of Super-heroes #230 Original Art Page Half Splash DC Comic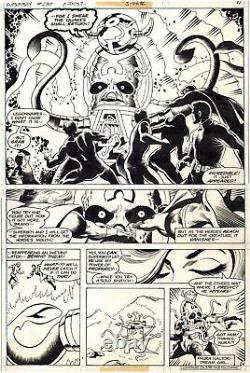 And check out OUR NEWLY LISTED ITEMS. This is an Original Art Page to Superboy #230, which was published in 1977 by DC Comics. It is from the classic "The Creature Who Conned the Legion", and features a truly amazing half-splash with Superboy, Brainiac 5, and the Legion going up against the evil alien, Sden! These classic Bronze Age 1970's pages have become so hard to find, and this is a great one! An absolute stunner of a page, if you were looking for just one perfect SB & Legion example for your collection, this is it!
There are tape stain marks in the top and bottom margins, which is common on pieces from this time period, but it still displays nicely. This is a classic example, and it goes without saying that vintage Legion pages are highly sought-after. To get a piece of this quality is difficult, as they rarely appear on the open market, and once pieces go into collections they do not come out again. This is an exceptional and unbelievably rare piece of artwork, that would look amazing framed and prominently displayed, and would be a true key piece in any collection.
Check out our other auctions for more great items. Check it out, you'll be glad you did!