Adam Kubert Signed Original DC Comics Concept Art Sketch Doc Savage & Crew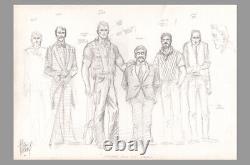 Doc Savage, "The Man of Bronze, " was one of the most popular pulp adventure characters of the 1930's and 1940's and, being intermittently published ever since, remains a nostalgic icon to this day. From 1988 into 1990, DC Comics published its own Doc Savage comic series. With the exception of issues #1 Adam and Andy Kubert penciled and/or inked the cover to every issue of the series, sometimes one would pencil, the other ink, and then vice versa. This concept artwork features character designs drawn by Adam Kubert outlining how the characters would look. The artwork was ultimately used as a guide for the interior artists as well. It is signed by Adam Kubert. Please note- this is an actual, original piece of artwork drawn by hand by Adam Kubert. It is not a pre-printed image, copy or print. It is a one-of-a-kind original. Excepting pack-pulled autograph trading cards, CGC Signature Series, signed Sideshow prints, and like collectibles, all autographed items Vault Collectibles sells were personally witnessed, by myself, being signed by the writer, artist, or celebrity in question. No third party is involved.
Further, art sketches - and most published original art I sell - were obtained directly from the artist themselves. For buyers desiring this guarantee in written form, this statement guarantees that the above-referenced item is as stated in the listing description. As this serves as written proof of said guarantee, no physical documentation will be included in the package when the item is mailed.