Generations Shattered Original Art Batman Starfire Booster Gold Kamandi Sinestro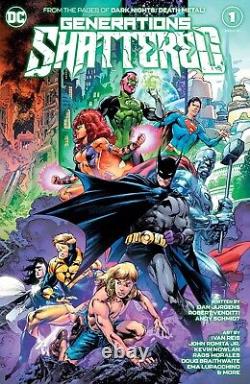 From March of 2021, this original art page features pencils by Paul Pelletier with inks by Sandra Hope. It is page 49 from Generations Shattered and measures approximately 11 by 17 inches.
It features the first page in the story to depict all of the team that were gathered together by Kamandi to face the crisis, including the Golden Age Batman. He page is signed by not only Pelletier and Hope but also writer Dan Jurgens as well. Please note- this is the actual, original piece of artwork by Pelletier and inked Hope.
It is not a copy, print, bluelines, or a pre-printed image. It is a one-of-a-kind piece of original art. The comic cover and the finished page with text are shown for reference only- it is not included in with the listing. The listing is for the original artwork only.
From the Grand Comics Database - An unknown force is causing all timelines to be erased. An older Booster Gold sets out to gather a team of heroes from across time to fight the threat, but is severely injured when rescuing Kamandi. Skeets then leads Kamandi to various time periods to gather Superboy, Steel, Starfire, Sinestro, Doctor Light, a younger Booster Gold, and the Batman of 1939. They are confronted by Dominus who is behind the erasure of the timelines, and who has gathered his own team from across time to fight the heroes.
Excepting pack-pulled autograph trading cards, CGC Signature Series, signed Sideshow prints, and like collectibles, all autographed items Vault Collectibles sells were personally witnessed, by myself, being signed by the writer, artist, or celebrity in question. No third party is involved. Further, art sketches - and most published original art I sell - were obtained directly from the artist themselves.
For buyers desiring this guarantee in written form, this statement guarantees that the above referenced item is as stated in the listing description. As this serves as written proof of said guarantee, no physical documentation will be included in the package when the item is mailed.