James Rizzi original 3D, MR BASKETBALL, FUNNY FACES, handsigniert VERGRIFFEN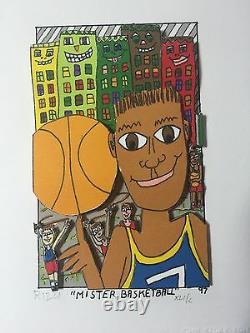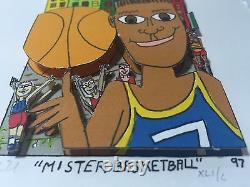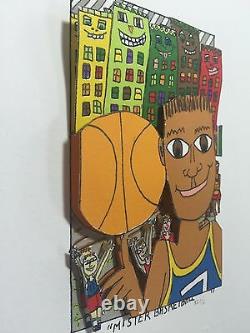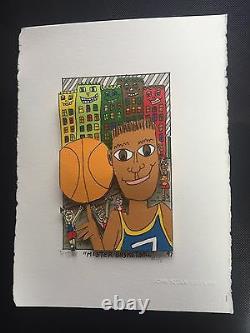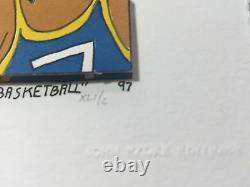 Aus der Serie FUNNY FACES von 1997. 12,5 cm x 16,8 cm reines 3D Motiv: ca.
6,5 x 10 cm. Auflage: L (50), Sie erhalten ein Werk aus der Auflage die Nummer XLI (41) steht nicht mehr zur Verfügung. Seit Jahren vergriffenes original 3D Werk des berühmten New Yorker Künstlers James Rizzi aus der FUNNY FACES Serie von 1997. Natürlich handelt es sich hier um ein handsigniertes Werk.
In dieser Serie hat sich Rizzi einem seiner Lieblingsthemen gewidmet, den Menschen und insbesondere den Gesichtern. In seiner unnachahmlichen Art hat er in dieser Serie viele Situationen des täglichen Miteinanders künstlerisch umgesetzt und zusätzlich mit treffenden Titeln versehen, die auch den Humor des Künstlers widerspiegeln. Basketball ist eine der Sportarten, denen sich Rizzi immer wieder gerne gewidmet hat und bei " MISTER BASKETBALL " sind dann auch die typischen lachenden Häuser zu finden, die Rizzi so berühmt gemacht haben. Hier bieten wir ein Exemplar aus der kleineren, römisch nummerierten Auflage an.
Nach dem viel zu frühen Tod des Künstlers sind handsignierte 3D Werke sehr gefragt und insbesondere die früheren Werke, welche unter dem Verleger John Szoke entstanden sind, sind sehr gesucht. Hier die Gelegenheit ein bereits 22 Jahre altes, lange vergriffenes Motiv aus der FUNNY FACES Serie zu erstehen. Ein wirkliches Highlight einer jeden Sammlung. Diese Position unterliegt als Kunstgegenstand/ Sonderregelung der Margenbesteuerung gem. 1 UStG und § 25a III S.
Ein gesonderter Umsatzsteuerausweis erfolgt nicht. The item "James Rizzi original 3D, MR BASKETBALL, FUNNY FACES, handsigniert VERGRIFFEN" is in sale since Wednesday, April 10, 2019. This item is in the category "Antiquitäten & Kunst\Kunst\Kunstdrucke". The seller is "popart-kunsthaus" and is located in Niddatal. This item can be shipped worldwide.