Mark Bagley Signed 2019 Spider-man Original Art-mary Jane, Claire, Benjy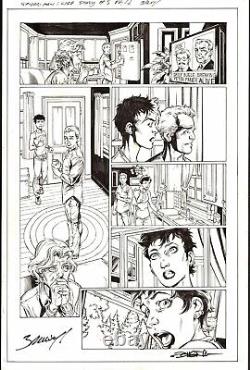 A beautiful page of 2019 Spider-Man original art by legendary artist Mark Bagley! This is the original art to Spider-Man Life Story # 5 page 12 and features Mary Jane Watson Parker, Claire Parker, Benjy Parker! On this page: It's the 2000's and Peter Parker is out of retirement due to Spider-Man's (Ben) death! MJ is watching the news about Peter being Spider-Man when Claire sees Morlun approaching the house! From the 6 issue mini-series that re-tells the Spider-Man saga as if Peter, Gwen, MJ and all the characters aged in real time! See color scan of published page for more. The art on this page was penciled by Mark Bagley and inked by John Dell!
Mark and John have both signed the art on the bottom of the page! PLEASE NOTE: This is an original, hand drawn piece of published Spider-Man art, not a print, copy or facsimile!
This 11 X 17 inch page of art on bristol board is in excellent condition and would make a great addition to any Spider-Man, Mary Jane Watson Parker, Claire Parker, Benjy Parker, Mark Bagley or John Dell collection! It could also make a GREAT GIFT! And, check out my other auctions for great original comic book art!