MEN OF WAR #19 original art GRAVEDIGGER 1979 AYERS DODGE GERMAN BULLETS BOMBS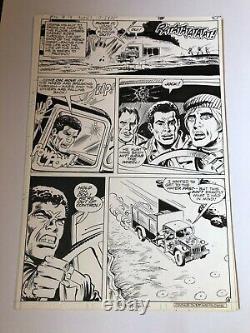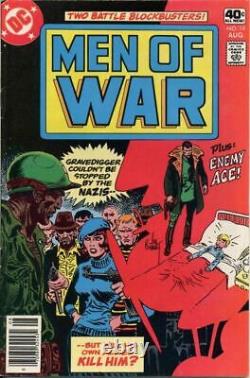 THEN IT RAINED COMICS PRESENTS. MEN OF WAR #19 original art GRAVEDIGGER 1979 DICK AYERS. This is a awesome, must have page of ORIGINAL ARTWORK...... From MEN OF WAR #19 from 1979 and DC comics.... SUPER ACTION from the COVER story titled AN ANGEL NAMED MARIE.....
A classic story featuring GRAVEDIGGER ULYSSES HAZARD, a man who trained himself to become the DEADLIEST WARRIOR in the U. ARMY -- only to have the COLOR OF HIS SKIN earn his the somewhat less illustrious position of GRAVEDIGGER, but now he has come to show the ARMY just how BAD a mistake that was!!!!!
This page features GRAVEDIGGER "CAPTAIN HAZARD" and members of the FRENCH UNDERGROUND dodging NAZI BOMBS AND BULLETS------NUFF SAID!!!!!! A TRULY AWESOME, ONE OF A KIND SHOWPIECE..... A approx 10 1/2" by 16" MASTERPIECE by LEGEND DICK AYERS and SIGNED in the lower edge by LEGEND/INKER ON THIS PAGE ROMEO TANGHAL! I have shown a pic of the comic this is from---you do NOT get the comic!!!!! GET GREAT SERVICE - WELL PACKED ITEMS. THEN IT RAINED COMICS SAYS. Helped with market reports as a WIZARD V.
Known by comic dealers and collectors worldwide to be FAIR and HONEST!