New Mutants Annual #6 Cable Pinup Original Art by Deadpool Creator Rob Liefeld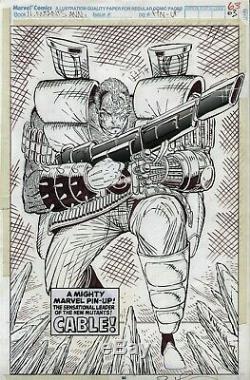 New Mutants Annual #6 Cable Pinup Original Art by Rob Liefeld Creator of Deadpool! Are you a studio executive looking for a nice'thank you' gift for Josh Brolin?
Are you a screenwriter flush with sequel cash and wanting to relish in some nostalgic youth? Are you a Canadian actor/producer with a fetish for red leather that wants an image of Cable to hang above your bed? Well, this is the piece of overpriced art for you! With the recent surge of art by Rob Liefeld breaking records I decided to offer up one of the single greatest drawings of Cable ever made (Cable is the grumpy old man in Deadpool 2, played by the teenager who stole the little girl's tricycle in The Goonies). This is a pinup from the back of New Mutants Annual #6, one of the first ever appearances of the time-traveling cyborg known as Cable.
This was drawn by the great Rob Liefeld waaaay back in 1990. It was one of the biggest and most badass Cable images Liefeld ever did, going toe-to-toe with the cover to New Mutants 87. There's not much coolerer art of Cable out there Yes, coolerer is a real word. It shows up on Wiktionary, which is absolutely a reputable sounding website. Liefeld also created Deadpool, Domino, Shatterstar, X-Force, and Image Comics, so he's about as cool and important a figure in comics history as there is.
The movies Deadpool and Deadpool 2 are based entirely on his characters. None of you reading this have accomplished anything close to that in your life, so don't mock him. (Except Rob, if he reads this, in which case he actually has accomplished all of this). We're gonna assume 20 times as much. Is that a fair price?
But the generation that grew up on this stuff basically invented the internet, so there's a lotta rich nerds out there and this will totally get you chicks. Also, there's another epic thing this piece has going for it that every fan of Rob Liefeld knows is impossible to find - a foot!! Yes indeedy, this sucker has got one of em!
One whole foot, visible right there on the page. Pretty sure this was the only one he ever drew. Like 90% certainty on that.
Life doesn't get much better than this. Unless you're Ryan Reynolds, in which case life peaked back with Two Guys, A Girl, and a Pizza Place. It's been all downhill since.. The item "New Mutants Annual #6 Cable Pinup Original Art by Deadpool Creator Rob Liefeld" is in sale since Monday, July 27, 2020.
This item is in the category "Collectibles\Comics\Original Comic Art\Splash Pages". The seller is "rabidferret" and is located in Sharon, Massachusetts.
This item can be shipped to United States.