PLANET TERRY #3 original comic art SPACE SHIP VANISHES, SCI FI FUN, 1985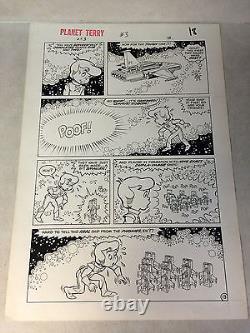 THEN IT RAINED COMICS PRESENTS. This is a awesome, must have, tough to find piece of ORIGINAL COMIC BOOK ARTWORK........
COOL PAGE from the SCI FI, FUN FILLED, ACTION PACKED PLANET TERRY series....... This page is from PLANET TERRY #3 from 1985 and MARVEL/STAR COMICS....... From a story titled THE SECRET OF THE SPACE WARP..... TRULY AWESOME, ONE OF A KIND SHOWPIECE..... NOT a PRINT or COPY, BUT THE ORIGINAL ARTWORK USED TO MAKE THE COMIC BOOK!! A LARGE 14 by 21 MASTERPIECE!!! GET IT WHILE YOU CAN!!! GET GREAT SERVICE - WELL PACKED ITEMS. Helped with market reports as a WIZARD V. And are known by comic dealers and collectors worldwide to be FAIR and HONEST!!